Back to list
Ekonomiczny system laserowy LG50

System laserowy LG50 to kompaktowe i łatwe w użyciu urządzenie, przeznaczone do montażu stołowego. To wyjątkowo ekonomiczne rozwiązanie umożliwia optymalne znakowanie wielu różnego typu materiałów takich jak metal, plastik, drewno czy szkło.
Wyjątkowy model LG50 zapewnia maksymalną przystępność i łatwość obsługi, która nie wymaga od operatora żadnej specjalistycznej wiedzy. W pakiecie znajduje się oprogramowanie z niezwykle prostym w użyciu edytorem grafiki, który umożliwia błyskawiczne i bezproblemowe wprowadzanie tekstów i obrazów..
Ergonomiczne drzwi frontowe obejmują urządzenie z trzech stron, dzięki czemu po ich podniesieniu operator zyskuje doskonały dostęp do obszaru znakowania. Ponadto wyposażone zostały w system EasyOpen, który umożliwia ich bezwysiłkowe otwieranie i zamykanie.
Głowica lasera znajduje się w górnej części obudowy i może być w prosty sposób zdemontowana i wykorzystana do innych zastosowań takich jak znakowanie dużych elementów (LK4) czy praca w zintegrowanych liniach produkcyjnych.
DOSTĘPNE MODUŁY: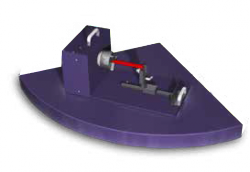 FM Rotation axis
Sterowana numerycznie głowica do znakowania elementów cylindrycznych i stożkowych. Posiada trzyszczękowy zacisk oraz regulowane podparcie do znakowania dłuższych przedmiotów.
Znakuj rozmaite materiały: